I am a bad blogger, I admit it! I have good intentions to post, but them something always gets in the way.
Some of those things have been new soaps! I want to share a few of them with you, kind of a sneak peak before the hit etsy.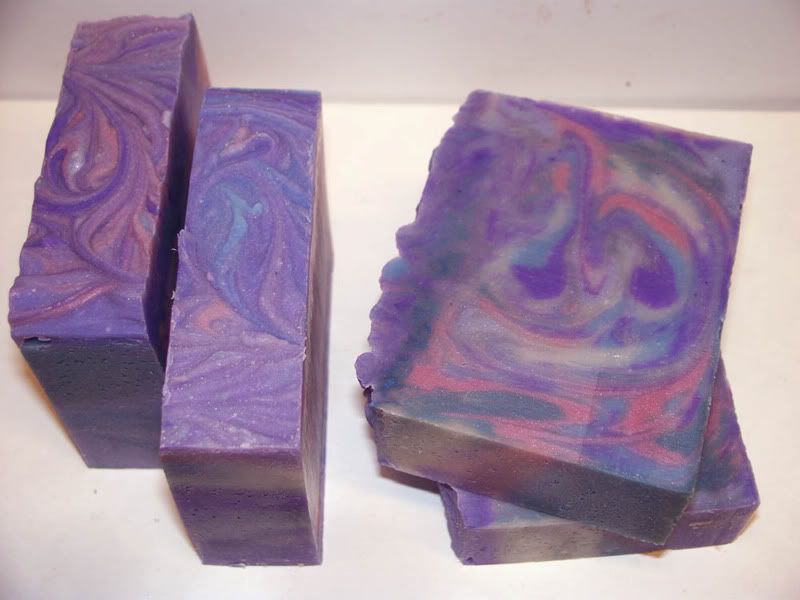 This soap is scented with a wonderful lilac scent. It is colored with 6 different shades of purple, blue, and pink, colors that I remember from the lilac bushed outside my childhood home. This is really one of my favorite scents so far, so fresh and spring like!
This next soap is Very Berry Vanilla. A dupe of a popular Raspberry scent found at mall Bath and Body stores, this scent is sweet, fruity, without being overpowering. This scent is a best seller both in my soaps and in my sugar scrub.

One of my best sellers is my
6 color swirl
. To me it smells like a tropical vaction, sitting on the beach, fruity drink in hand, the sweet smell of mango, banana, pineapple. This is a restock batch, the colors are a bit brighter this time, but still lovely I think.
Be on the look out, soon I will share my tutorial on how I created this soap!
Christmas has come and gone, and the last soap I am going to share was the special batch made just for gift giving. But, it was so well liked, I think it will join my holiday line up next year! Frosted Mint, a fresh blend of peppermint, spearmint, and other mints, this is a cool scent that just screams holiday! I enjoy this scent in my matching
bath bombs
and
mint foot scrub
. Both are a great way to cool down during the hot summer days.
Stay tuned. I have a few more soap I will share, a tutorial to post about swirling, and some sales coming up that my blog readers will get to enjoy early!